About us
Cleverfrog are a website design, creative design and SEO agency based in Reading, Berkshire. We bring together design and strategy to produce outstanding results for your business.
About us
Cleverfrog are a website design, creative design and SEO agency based in Reading, Berkshire. We bring together design and strategy to produce outstanding results for your business.
Web Design Reading
At the heart of CleverFrog is our absolute passion for all things design coupled with our focus on providing stand-out bespoke websites and design for those just starting out on their new business journey.
That being said – we are equally happy to provide websites and rebrands for those that have been in business a while – but whose website just isn't working for them any more (we love a good rebrand!).
New website without the big price tag
At our core is our need to design stunning websites for those of you just launching – who perhaps don't have those thousands of pounds for a "bespoke" site – but who might be receiving those sort of quotes from website companies. We understand that start-ups are the most price conscious of businesses – and as such we even go so far as to offer a payment plan – once again removing that possible roadblock. We want you to launch and succeed – your success means more design work and recommendations for us at the end of the day!
Bespoke website design
Just because our websites are competitively priced doesn't mean that they are all based on a set template. All of our websites are bespoke to you, custom designed around your individual preferences. They are all SEO friendly and are fully responsive across all mobile devices. We build all of our sites on the most recognised content management system (CMS), WordPress, meaning that it's easy for you to amend content as needed in the future – without spending on website updates.
Other design work
CleverFrog don't only create beautiful websites – we are happy to help you with any design project including brand design, logos, and company stationary or online brochures. Our aim is to offer everything you need to start your business at a low price. If you need printed material we can recommend an excellent printer or two also.
CleverFrog produced a company brochure that was 'on brand' and creative – just what we needed. Even though they managed the project remotely, they did it quickly, and were very responsive and flexible.
I would have no hesitation in recommending their marketing collateral production to other companies.
When I first made contact with Sarah @ Cleverfrog , I was taken with the 'can-do' attitude towards the entire project , and her willingness to meet our needs – both creative and budgetary! Cleverfrog always made working together easy; from new needs popping up, to last minute website design changes, the overall approach was hard-working but always positive. Even post-launch, the service has continued to be helpful and interactive, making it easy to solve any issues quickly and resolutely. Thank you, Cleverfrog!
Sarah really took the time to understand what I was looking for from my website design. The end product is great, it looks fantastic and really reflects what my business is all about. Sarah was a pleasure to work with throughout the process!
I commissioned Sarah for two projects. The first was a logo for my science outreach work. Having given Sarah a fairly vague brief in email she came up with two versions of the logo within a few days. The final result is entirely appropriate and I have used it on paperwork and clothing.
As that was so successful I went on and asked Sarah to design a logo and build a new website for my new business. We arranged to meet and Sarah was extremely professional and very easy to talk to. She asked several very relevant questions and answered all of mine clearly. Sarah was in regular contact whilst she was working on the site, telling me what I needed to do, and suggesting images and layouts. The final result is eye catching and informative and very professional. I am so glad I chose Sarah and Clever Frog and found it excellent value.
Designing a website for a poet and writer was not 'comfort zone' for Sarah but she engaged with me and with the task with energy and enthusiasm as well as with her undoubted skills and experience. She worked hard with me to ensure I got what I wanted from the site – even when I wasn't always sure myself! Did it work? Well, go to the site promiselandpoetry.co.uk and see for yourself. I can say that I was pleased with all aspects of the work – including the keen price – and with Sarah's willingness to support further development since the site went live, including coaching me in how to manage and update the site myself.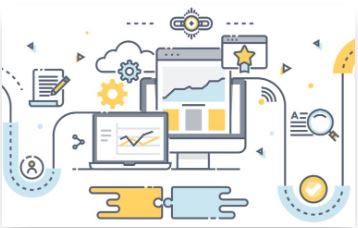 If you're selling your products or services online, it's important that your website appears as high up as possible in search engine results. At Cleverfrog Website Design Reading we offer Search Engine Optimisation (SEO) services  to help ensure that your...
read more
Want to know more or chat about a project you have in mind? Call 07920 104998.