Bespoke cost effective new website design for small businesses in Reading.
Web design Reading
We're a Reading based web design and web development agency, providing fresh, creative digital services to businesses who want to grow online. We design & develop bespoke SEO optimised, mobile friendly websites with WordPress CMS. 
Content and graphics
Do you have content written already for your site? If so, this would be when you send this to us, so we can think about fitting this within your site design. If you need the content to be edited we can do this for you too. Do you have graphics that you need incorporating too? Or do you need us to provide graphics? If so we will source paid stock graphics for you (£15 per image charge).
The web design process
Once we know what you want to achieve with your website we can get into the nitty-gritty of what styles you prefer. You can send us examples of sites that you really love, and explain why you love them, and which elements you perhaps dislike.
We will then take these design and layout ideas through to a design "mood-board" for your website (similar to one that you would use when designing a new decorating scheme for your home!). Once you have signed off the mood-board, we can start to build your website – taking into account the sort of styles and layout that you prefer. Once you are happy that you wish to use Cleverfrog Web Design Reading for your website design, we will ask you to pay 50% deposit.
Proofing and sign-off
When we have completed your website design and build, we will get you to proof the site, make any content amends that you need, then ask you to sign-off on the site as completed, and pay the remainder of your invoice. Once this is paid we will provide full access to your site, plus any advice that you need to navigate around the WordPress content editor.
Mobile friendly web design
All of our websites are responsive, meaning they adapt to the size of the screen its being viewed on, whether that's a laptop, PC, mobile phone or a tablet device. More people actually view websites on mobile and tablet devices rather than on a laptop or PC these days, plus Google actually favours mobile optimised built websites in its search results.
Website training and website updates in Reading
If you are a little techno-shy, we are happy to do any future content amends that you need, on your behalf for a simple hourly fee of £40, half day £150 or full day of updates for £295. Adding an extra page to your website will cost you £80. If you just need an hour of WordPress training to show you how to amend content on your new website yourself, we can do this for a straightforward charge of £80.
Sarah really took the time to understand what I was looking for from my website. The end product is great, it looks fantastic and really reflects what my business is all about. Sarah was a pleasure to work with throughout the process.
– Liz Driver, Chiltern Nutrition
WE LOVE
Crisp, clean design
Our Website Design Portfolio
Here are a selection of some of the projects that we have worked on recently.
When I first made contact with Sarah @ Cleverfrog , I was taken with the 'can-do' attitude towards the entire project , and her willingness to meet our needs – both creative and budgetary! Cleverfrog always made working together easy; from new needs popping up, to last minute website design changes, the overall approach was hard-working but always positive. Even post-launch, the service has continued to be helpful and interactive, making it easy to solve any issues quickly and resolutely. Thank you, Cleverfrog!
Sarah really took the time to understand what I was looking for from my website design. The end product is great, it looks fantastic and really reflects what my business is all about. Sarah was a pleasure to work with throughout the process!
I commissioned Sarah for two projects. The first was a logo for my science outreach work. Having given Sarah a fairly vague brief in email she came up with two versions of the logo within a few days. The final result is entirely appropriate and I have used it on paperwork and clothing.
As that was so successful I went on and asked Sarah to design a logo and build a new website for my new business. We arranged to meet and Sarah was extremely professional and very easy to talk to. She asked several very relevant questions and answered all of mine clearly. Sarah was in regular contact whilst she was working on the site, telling me what I needed to do, and suggesting images and layouts. The final result is eye catching and informative and very professional. I am so glad I chose Sarah and Clever Frog and found it excellent value.
Designing a website for a poet and writer was not 'comfort zone' for Sarah but she engaged with me and with the task with energy and enthusiasm as well as with her undoubted skills and experience. She worked hard with me to ensure I got what I wanted from the site – even when I wasn't always sure myself! Did it work? Well, go to the site promiselandpoetry.co.uk and see for yourself. I can say that I was pleased with all aspects of the work – including the keen price – and with Sarah's willingness to support further development since the site went live, including coaching me in how to manage and update the site myself.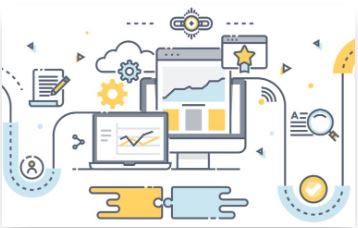 If you're selling your products or services online, it's important that your website appears as high up as possible in search engine results. At Cleverfrog Website Design Reading we offer Search Engine Optimisation (SEO) services  to help ensure that your...
read more